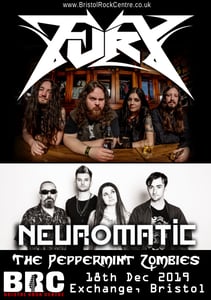 £

10.00
Tickets to Fury in Bristol 18th December 2019
The Bristol Rock Centre Christmas party 2019! Hosting a night of rock and metal (also open to the public!)
FURY (Heavy Metal)
The Most Electrifying Band In All Of The Milky Way
FURY are a British band who deliver expansive, panoramic and beautiful arrangements, easily capable of transporting you to alternate and fantastical universes. The potent mixture of Julian's soulful, yet powerful, vocal combined with a brilliantly talented band will really push all the buttons for fans of any genre of music - and with many years of live experience between the group, Fury guarantee an energetic, engaging and thoroughly fun live experience for all!
NEUROMATIC (Psych Rock)
Blending noisy metal guitar, rhythms of the Himalayas and, lilting dreamy vocals. Neuromatic are a psychedelic 5 piece based in Bristol. Think Kate Bush meets the Texas Chainsaw Massacre.
Neuromatic's debut album "55" was recorded live over a single weekend in June 2019 and was released on 15th August 2019. Currently available from iTunes, Amazon, Spotify, CD Baby as well as from our official Big Cartel site: https://neuromatic.bigcartel.com
We are trialing a unique approach to selling tickets, trying to raise funds for the bands and for Bristol Rock Centre, but also encouraging people to bring along family and friends, to make new friends and reach out to the community.
Therefore, although tickets are £10 each, there will be great discounts for those who are purchasing with others too! The prices from the Fury merchstore will are:
1 Ticket: £10
3 Tickets: £20
10 Tickets: £50
So round up your friends and family, let's make this the ultimate rock n roll christmas party!
PS
When ordering a custom number of tickets, remember you can add more after the site has shown you your basket. For example, if you want 4 tickets, add the 3 tickets deal to your cart, then go back into the store and add 1 more ticket. Check your cart at the end to make sure you have a 3x ticket deal and an individual ticket (total £30).